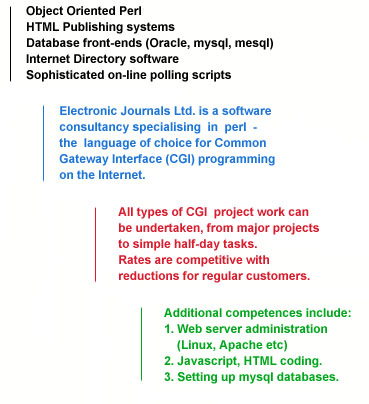 ---
64 St Augustine Road, Southsea, Portsmouth, United Kingdom
Tel/Fax: +44 (0)23 92421752
E-mail acadman@electronicjournals.co.uk
---
About Electronic Journals Ltd.
Electronic Journals Ltd. was originally set up in 1995 right at the birth of the world wide web. The aim of its founder, Dr Andrew C. Cadman was to publish electronic academic journals on the Internet as an alternative to print publishing. The company quickly diversified into perl CGI programming and later sold its publishing interests to Springer Verlag of Germany.

Electronic Journals Ltd. now has a formidable amount of experience in constructing web based Common Gateway Interface (CGI) applications using the perl programming language. All kinds of work are undertaken within its range of core competences, from major projects to small scale one day jobs.
Portfolio
NetLondon Ltd.
NetLondon.com created and owns the first Internet directory specifically for London, England. The entire administration and architecture of the directory was programmed using NetLondon designs by Electronic Journals Ltd over an 10 month period. This included the following items:
Highly sophisticated HTML publishing system allowing thousands of HTML pages to be published within an ordered directory heirarchy.
Navigational scripts and automated on-line newsletters.
Administration scripts for editing the directory.
Construction of advanced spidering system (based on SWISH freeware).
Interleaving of the directory publishing system with other commercial and non-commercial software applications.
Server migration and server-side administration using Unix, Linux RedHat and the Apache web server.
M-Corporation Ltd.
M-Corporation are an Internet design firm based in Ringwood, Dorset. Programming work includes the setting up of complex CGI / Javascript forms for their clients.
Contact Us
To find out more about our range of services and our prices, please contact Andrew Cadman.
---